Pâtisserie
In-house confectionery
Our in-house pastry shop is the icing on the cake of our cuisine. All cakes and tarts are made with natural ingredients in our house.
Whether with fruit, chocolate, cream or marzipan - our pastry chefs and confectioners dedicate themselves to the "sweet side of life" in our confectionery. With a lot of creativity and skill they create enchanting cakes and tarts, which are not only a beautiful sight but also a real treat for the palate.
IN-HOUSE PRODUCTION
Cakes and pies
In our in-house confectionery as well as in our restaurants we use dewy fresh products and process them expertly by hand directly in our house.
It is also important to us to use products from regional suppliers from organic cultivation.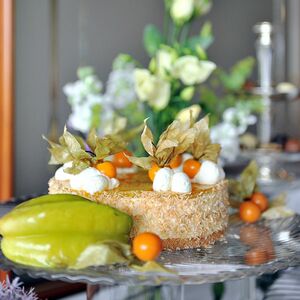 Panorama-Café
Treat yourself to one of our sweet treats and a full-flavoured hot coffee. As you savour the delicacy, enjoy the breathtaking view of the North Sea, the Wadden Sea World Heritage Site and the international shipping route from our Panorama Café.